Whoohoo..
Very honoured to be in the Spotlight over at the Simply Sassy blog!
As I've loved these little cuties from day one,
I jumped at the chance when asked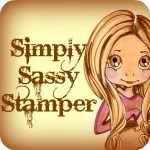 Sassy Artist Krista Smith just keeps coming with these amazing designs
that when asked to pick a favorite..
I just could not!! I love them all!
.oOo.
Cherise will be having a sleep over party for her birthday at the end of the month
and thought it would be nice to make some invitations.
The sweet 'Bedtime Snuggles' is just perfect for this with her cute bunny slippers
I've made a criss cross card,
still one of my favorite card shapes
ever since I seen Beate's fab splitcoast stampers tutorial a looong time ago
[you can find it here]
Printed off the invite itself onto plain card.
Cut to size and stamped the border with stamps from Card-io.
.oOo.
Yes.. I know I made a boo-boo with the printing,
but only noticed after taking the pics..
Luckily this can easily be re-done and changed..lol
The papers I used are MME All Girl,
MS border punch, SU! Ribbon and Sassy
has been coloured with Copics, cut out and 3D'd onto the ribbon.
.oOo.
Another great BIG thank you to the Simply Sassy Inspiration blog for having me
Have a gorgeous week all,
Hugs, Marlena x